KB stands for "Knowledge Base". It's a repository of articles that explain issues affecting Windows and other Microsoft products. Each security update begins with "KB" and refers to a specific Knowledge Base article. Each KB contains a number of updates and patches. Updates are numbered "KB123…", and they're not in sequential order. This can cause confusion when trying to determine patch levels and completeness. Read on to find out what to do if the KB number is not showing up in WSUS.
But what do you do if the KB number isn't showing up in WSUS?
Here are some possible scenarios:
The Product or Classification Might Not Be Selected.
A product is a specific edition of an operating system or application. You need to select the products for which you want to synchronize otherwise you will be missing vital updates for those systems or applications.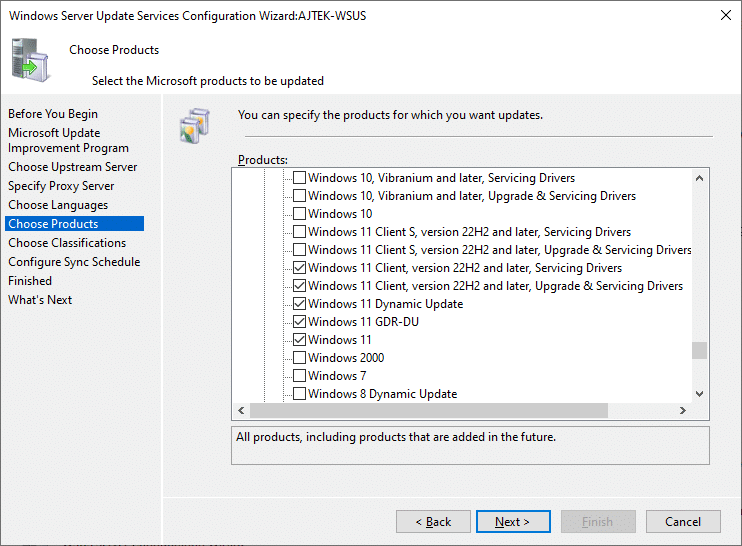 From the list of products, you can select individual products or product families for which you want your server to synchronize updates. If you select the product family, each of the child products will be selected and if any new ones are released by Microsoft, they too will automatically be selected. If you deselect one of the child products from the product family, it will no longer automatically check any new products within that family that Microsoft releases.
Products and classifications go together. If a product is selected but the corresponding classification is not selected, the system will not synchronize the correct updates. You need to ensure that both the correct product and classification are selected in the Product and Classification options. How can you tell what product and what classification is the correct one for a specific KB number? You can read more about where to get this information below. You need to get the Product and Classification information and ensure that each is selected as required for the corresponding update for it to synchronize. If you're setting up WSUS for the first time, this blog can help, including what to select when it comes to Products and Classifications.
*Make sure you're periodically, (maybe twice a year), reviewing the products and classifications. When you have new products, be sure to add them. If you remove a product, ensure you uncheck that box accordingly. For more on this, check out our WSUS setup series.
The Update is In WSUS But You Are Missing a Prerequisite
Perhaps the update you're looking for is in WSUS, but you're missing a prerequisite for the update so it is not detecting properly on clients. Prerequisites are listed on the KB version information pages (at the bottom). Make sure you have all the prerequisites or you can't complete the update.
Declined & Removed the Update
Perhaps you accidentally (or on purpose) declined the necessary update(s) and then WSUS Automated Maintenance (WAM) or some other automation removed the declined update(s). In this case, you will need to re-import the update. We recommend using our tool Import-WsusUpdate from the PowerShell Gallery.
The Update is Not Published to WSUS by Microsoft
Some updates are not published by Microsoft for WSUS. Some examples of these are the more recent "D" round updates (4th Tuesday of the month). In this case, you must import it – using Import-WsusUpdate – into WSUS.
How to tell what product and classification a specific KB is using:
You can go to any of the KB version information pages, as they all have the information at the bottom of the page. Check the page for:
The update availability.  

The channel it was released on. 

Next steps, including how to configure Product and Classification to automatically synchronize with WSUS.

Prerequisites and any other necessary information.
Here's an example:
How to Import Updates Into the WSUS Database 
If you didn't know, importing updates now requires PowerShell. We have a whole blog on how to import updates into the WSUS database. 
WAM for WSUS
If there's one thing that's certain, it's that WSUS requires regular maintenance and attention to keep it running smoothly. Some feel that WSUS is prone to failure at some point, no matter what. However, it doesn't have to be that way. With our solution, you can automate your WSUS maintenance. Not only will this free up your valuable time and relieve stress and frustration, but it will also ensure your WSUS server remains up and running seamlessly because it's receiving the proper maintenance and care. 
WSUS can get out of hand quickly if not maintained properly. Don't let that happen.